Do you want:

A healthier, stronger gut without the bloat, cramps and dreaded gas?
To get rid of toxins, ditch those last few pounds and keep them off?
To feel all-day energy without the mid-afternoon slump?
Glowing skin, healthy hair and nails, brighter eyes and even fresher breath?
A strong, healthy and supported immune system that's ready to fight off illness and disease?

What about a plan that gives you all of this without breaking the bank, depriving you of good food, or leaving you hungry and craving more?

Wouldn't that be awesome?

If that sounds good to you, then you need the Fall Sugar Detox. In just 14 days, you will:

Detox and cleanse your whole body
Dramatically improve your immune system and reduce sugar cravings
Rebuild your gut, giving you healthy, comfortable digestion
Clear out the toxins that are causing you to gain weight
Enjoy real, delicious, nourishing foods
The Detox Includes:
Detox Guide: Everything you need to know about detoxing, from gut health to sugar addiction to oil pulling, is packed into this comprehensive go-to Guide. This guide will help you detox physically and emotionally and let go of the food and emotions that are not serving you.
Recipe Guide: Over 60 mouthwatering recipes to take the guesswork out of detox. You'll get recipes for breakfast, lunch, dinner, snacks, smoothies, juices and tonics to make sure you don't run out of options for months.
Daily Email Support: I don't care what anyone says, we all need an accountability partner. Think of me as that, plus much more. I'll be with you every step of the way to answer questions, share success, give advice, or just laugh.
Suggested Meals: Since a busy person like you certainly doesn't have time for meal planning, I did it all for you! All your meals are strategically planned out for you for each day to maximize your results!
At a Glance Guide: A good program isn't complete without step-by-step instructions. Think of the At a Glance as your daily protocol for the entire program. From waking up with a tonic recipe to going to bed after a Detox Support Tool, I have you covered.
Shopping Guide: Here's a list to guide you through your planning and shopping process. Whatever it takes to make this process smooth for you.
Food Diary: Tracking your meals is critical to your success so, you'll find a Food Diary template to use when reflecting on how you feel after eating.
Bonus Handouts: Including How to Cleanse for the Beginner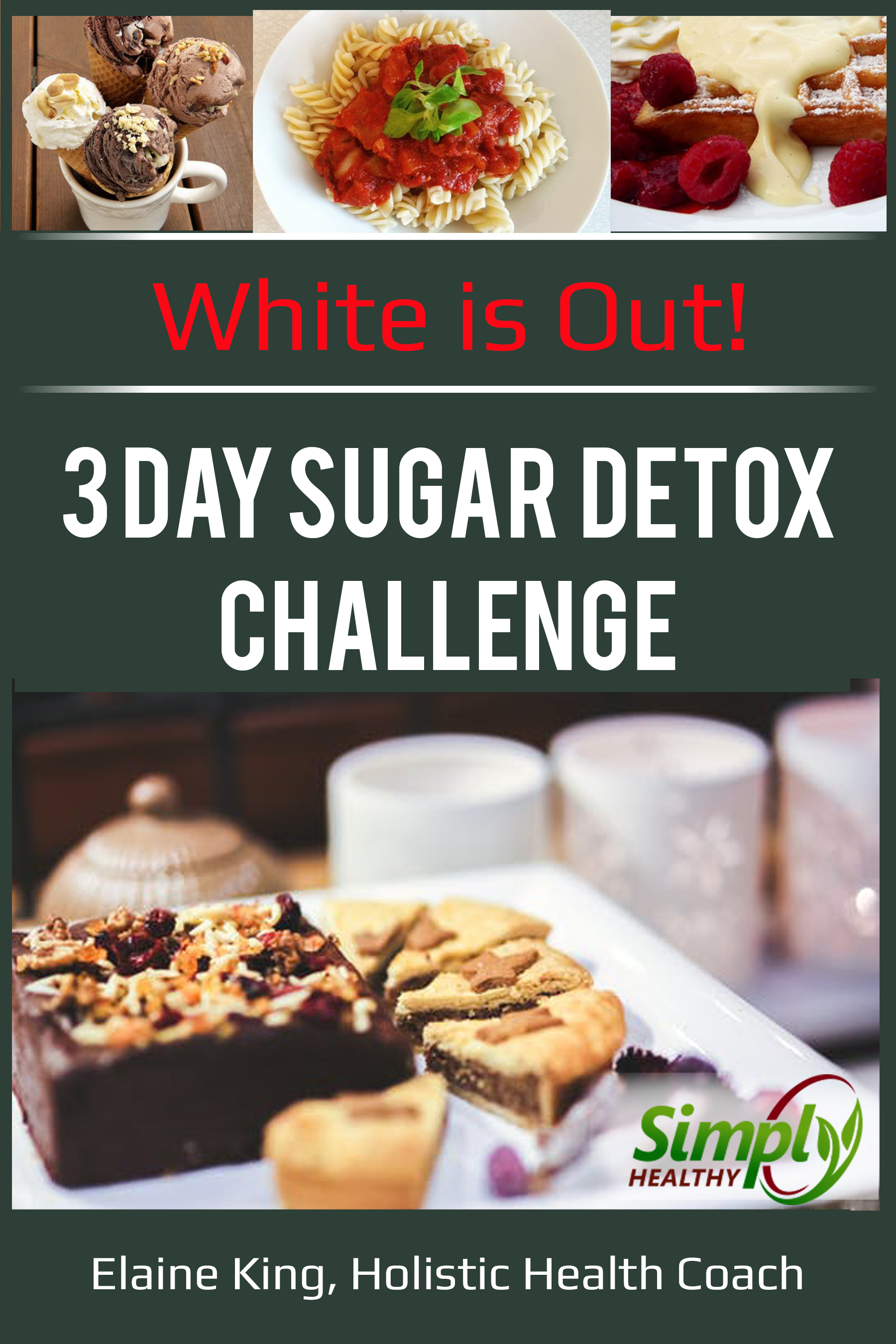 This 3 Day Sugar Detox eliminates all of the "white stuff" that is lurking in your diet. Things like sugar, cakes, cookies, candy, bread, pasta, crackers, pizza, chips, dairy, and all things artificially sweet. It also addresses managing stress to assist in the detox process.
After Only A Few Days, Many Experience...
1) Less bloating
2) Reduced inflammation
3) Reduced sugar cravings
4) Better elimination
5) Clearer thinking You may even lose a few pounds!
In The Guide You Will Receive
Step-by-step instructions
Meal plan
Recipes
Kick Sugar Discovery Session
Here's what you'll discover in your session:
Uncover what's been stopping you, slowing you down or keeping you from having the body - and the health - you want.
Develop a powerful vision for your Total Transformation, and what it will mean you, for your health and for your life.
Discover which foods and habits are bringing your body down, and what to do about it.
Get crystal clear on a step-by-step plan to create a Total Transformation in 90 days or less.